Saturday march 1 2014
Solar Nights #3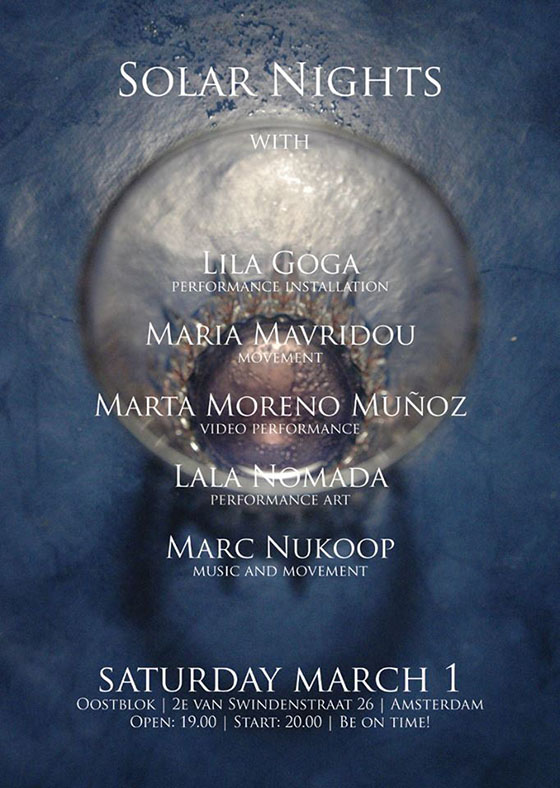 with:
Lila Goga
- 'Taliesin' | text/objects installation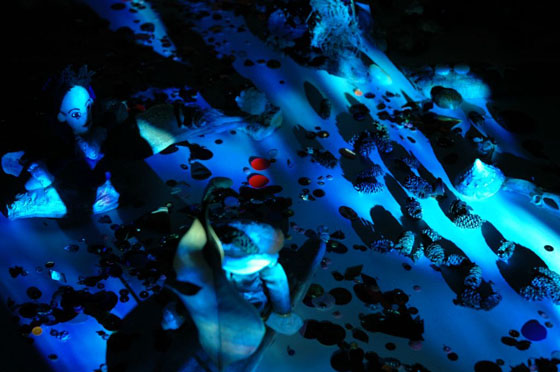 Travelling through a multitude of shapes,
collecting finds from even the dullest of stars.
Lila Goga is an Italian performance artist based in Amsterdam, exploring blurred territories overlapping disciplines and tags: rock, mythology, the female, creative depths and recesses.
www.teatrolila.it
Maria Mavridou
- 'Redfishleg' | movement performance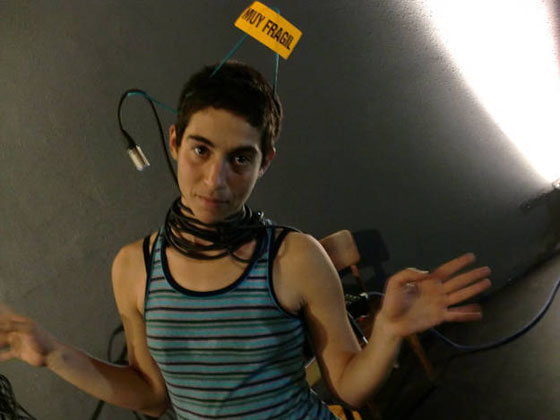 Tracking the imagination's path with the body
A movement performance by Maria Mavridou
Maria Mavridou (GR) is a free-lance performer, choreographer and teacher based in Amsterdam. Her work takes her to places like Poland, Spain, Korea, China, Colombia, as well as to the hidden parts of her mind. She loves working with people, but she sometimes takes a break for a solo.
mavridoumaria.blogspot.nl
Marta Moreno Muñoz
- 'Guggenheim' | video performance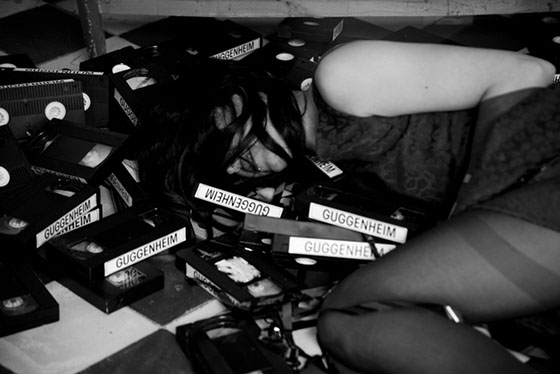 The video-performance Guggenheim, first in the series Destroying 2000 Years of Culture, was created for an alternative art festival that took place at the Guggenheim Museum in Bilbao but was unfortunately censored by the direction of the museum a day before the scheduled screening on the 12th of May 2011. In this video, the performer destroys a wardrobe full of VHS tapes labeled 'Guggenheim', first with an axe followed by a ritualistic burning of the wardrobe and tapes. This work deals with the idea of the artist's dissolution of her own narcissism, her contradicting sentiments towards her own practice and its conflicting relation with the 'art institutions'.
Marta Moreno Muñoz (b.1978, Spain) is a performance and video artist with a background in experimental theatre and other time-based arts. Graduating in 2002 with a M.A in Fine Arts, her work has focused predominantly on "feminine" subjectivity, dissolution of the ego and the notion of pre-oedipal nostalgia in response to a patriarchal and undesirable reality. She is at present in a transitional stage, shifting towards the conceptualization of larger-scale projects exploring the complex interchange between performance art and cinematic language.
Currently nomadic, she is working on personal artistic projects, researching for her PhD Thesis "Art as an Experience of Dissolution of the Self" and co-directing the experimental art space The Unifiedfield with Tara Transitory (aka One Man Nation); Marta Moreno has lived, produced and engaged in artistic works in Spain, UK, Turkey, India, The Netherlands, Indonesia, The Philippines and exhibited here and there.
www.theunifiedfield.net
Lala Nomada
- 'The Milk Series' | performance art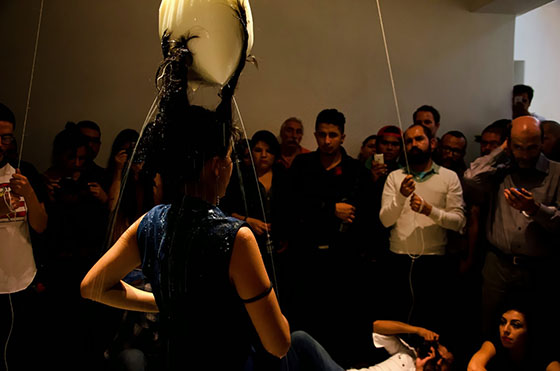 In milk fat particles are suspended in water, not interacting with each other and being independent. Continually changing location without affecting the system and due to its mass a particle can hide another. However, various factors such as changes in pH level or temperature can unexpectedly break the molecular structure, causing milkparticles to agglomerate into a smaller space.
Lala Nomada is a Mexican artist based in Berlin and Cologne. After a long time working in the field of visual arts she moved to the "immaterial art", starting on vocal and theatrical improvisation works in Mexico and Germany. Since 2008 she ventured into a more abstract field of improvisation and went to performance art which became her current field of interest.
Since 2009 she took part in workshops with internationally recognized performance artists (Jürgen Fritz, He Chenyao, BBB Johannes Deimling, Antoni Karwowski, Ingolf Keiner, among others).
She has performed, solo and in groups, in Mexico, Germany, Spain, France, USA, Turkey, Lithuania and Holland. She has participated in international festivals such as "Arizona Between Nosotros", "Performing Sciences", "Exchange Radical Moments" and IPA Platform for Young Performance Artist 2012.
The work process of Lala nomada is based on the creation of ephemeral sculptures during her performances, which themselves do not focus just in the construction of the sculpture, but in the qualities of the "analysed" material or situation, transmitting to the audience not just an image but also the interest on the material qualities, its sounds, weight, flavour and textures. As Frida Kahlo said: "hands in the eyes", Lala tries to put all her senses into the perception of the audience.
lala-nomada.me
Marc Nukoop
| improvised live music and movement
Marc Nukoop is a Dutch independent composer and improviser. He creates solo performances and works as a sound designer/composer for theatre and dance with several choreographers. Atmospheric is a word often used in describing his music; the soundtrack to an imaginary movie. All music speaks to a place that is not of words alone, evading meaning, inviting feeling, sensing. His work ranges from abstract to groovy, from experimental to easy.
He has studied at the Amsterdam School of Arts, department School for New Dance Development. As a dancer/performer, musician/composer and teacher he is associated to Dans Improvisatie Utrecht & Amsterdam that, amongst other activities, makes performances on location.
www.marcnukoop.dds.nl
Ellen Knops
- Lights
Ellen Knops started in 1989 in the musiclighting but changed quikly to theatre and modern dance.
In 1994 Katie Duck asked her to do the lights for her improvisation performance. All she said was "surprise me", so she did and continued doing. Since then they have been working together.Among other projects in Magpie Music and Dance Company, where there is an instant interaction between the disciplines dance, light and music.
In the past years Ellen improvised with many performers, such as David Zambrano, Micheal Schumacher, Gonny Heggen, Nederlands danstheater 3, Katie Duck en Lily Kiara.
In the work with Lily Kiara, in their almost organically growing collaboration, there is a very close interaction between lights and dance. They continue to develop their findings and always look for possibilities to strech their ideas a little further.
Ellen has been teaching workshops at the School for New Dance Development in Amsterdam, to share her vision that light can be played with as an autonomous element; light as movement, rather than a static aspect of the performance. Light can change the sense of space, time and atmosphere.
eknops.wordpress.com
music and video, cool drinks and fingerfood.
With afterwards a barefoot dance party on the white floor!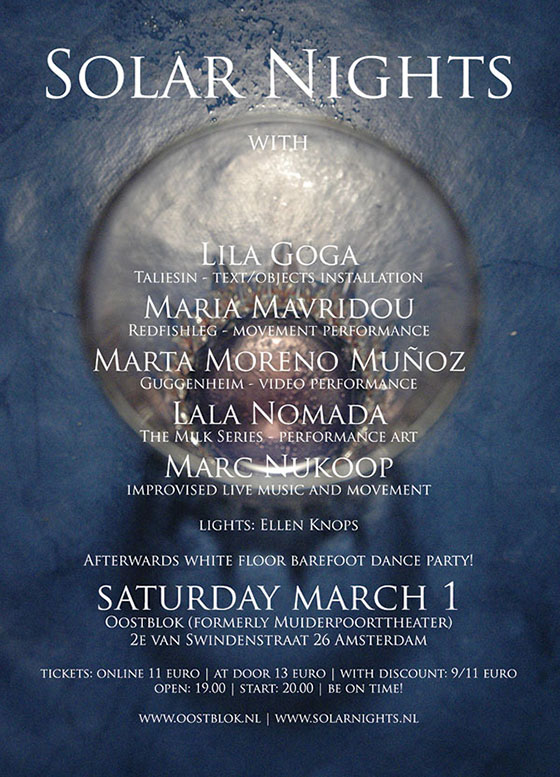 Saturday 1st of march 2014
Oostblok | 2e van Swindenstraat 26 | Amsterdam
Tickets: Online: 11 euro - At door: 13 euro | With discount: 9/11 euro
Open: 19.00 | Start: 20.00 | Be on time!
Solar Nights @ 26