Sunday 28 april 2013
Solar Nights #2
with
Environment #1
Spatial Installation with live movement and music.
concept by Stephanie Lama and Sebastian Janusz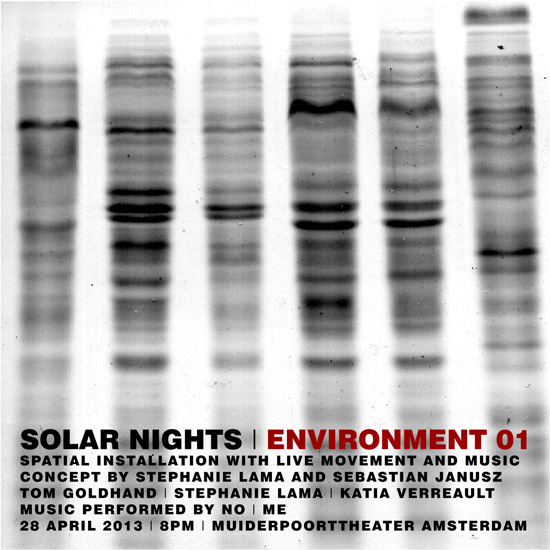 with:
Tom Goldhand, movement
Sebastian Janusz, piano
Stephanie Lama, movement
Jan Lemmens, percussion
Yrjana Rankka, contrabass
Katia Verreault, movement
music performed by NO|me
www.spaceinmotion.org
Vinkepeezer: Soundvillain, cut and paste composer, sonic painter.
Vinkepeezers' music is built from many tiny sampled fragments that reappear as a swarming flock of birds, falling apart and building up again in ever changing forms.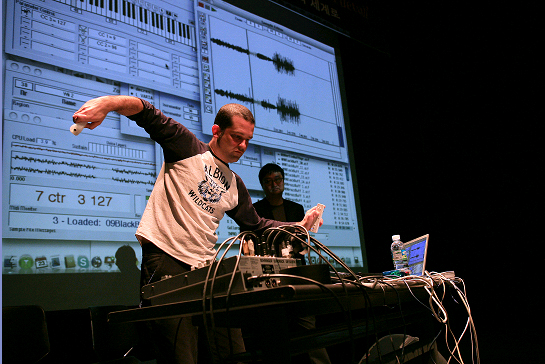 His music is organic, cinematic, warm and thickly layered, full of contrast. The music is performed live with an unique instrument consisting of game controllers such as the Wii remote, and by acoustic instruments played by musicians that reinterpret his compositions.
Vinkepeezer is Dutch composer, sound artist and performer Ivo Bol, who works internationally with filmmakers, theatremakers and choreographers.
www.ivobol.nl
Ronald V. Bijleveld has been making improvisational films since 1999. Every piece has a different working method, characterized by an open, continuously evolving approach. He lives a nomadic life, and always carries a camera. Inspired by landscapes both urban and rural, he has a head full of stories.
His work has been screened worldwide in the last decade. Most recent screenings in 2012: as part of the "StreeTVideOart" - action, movement and exhibition in Paris 2012, and in the prestigous Anthology Film Archives in New York. All work is shot on real locations around the world. Anarchistic by nature, Ronald likes to address social and geopolitical issues in a poetic manner.
preview.instantcinema.org/stofxfilms
YokoAna
Jumping from music, dance and performing arts, YokoAna is an international group of four artists based in the Netherlands that has emerged from the underground creative environment of Amsterdam.

The members compose their pieces, their ideas blending together in a very unconventional way yet following their independent paths. The function of singer or a dancer or a saxophone player can be shifted at any moment, finding ways of producing or altering sound through movement.
The group started with the idea to be a band of dancers, in other words to choreograph performances with a band feeling of creation. There are no leaders in YokoAna but also not just followers.
All the members of YokoAna are improvisers: this element is also very strongly present in the pieces. The group adapts the material to different locations being those theatres, galleries, music venues.
YokoAna is
Makiko Ito (Japan) is a freelance dancer and choreographer living in Amsterdam. After studying dance and dance education at Ochanomizu University in Tokyo, Makiko Ito worked in Tokyo as freelance artist and a founder member of C.I.co., which focuses on performance improvisation and contact improvisation. She performs and teaches in Japan and Europe (Netherlands, England, Germany, Sweden). In 2005 she moved to Amsterdam, working with Magpie Music Dance Company.
She is centring on the concerns that can occur while working with improvisation within ensemble situations. The key phrase she uses for her work is "something created behind". Makiko Ito choreographies include structured improvisations. The structures can be either of choreographed movements, sound or objects.
Makiko is artistic director of Wonderland, a music and dance performance aimed toward children and their parents. The project exists since 2006 and it's on going.
makikoito.wordpress.com
Yedo Gibson (Brazil)was born in San Paulo, in a very noisy environment. His neighbor had a junkjard and soon Yedo started making music with the stuff he found: pieces of cars, emty gasoline cans, cardboard and all kind of brass were soon holdng a saxophone mouth piece.
He moved in London in 2004 and worked with some amazing musicians as Marcio Mattos, Veryan Weston, John Edwards, Steve Noble, Mark Sanders and also was part of the London Improvisers Orchestra together with Lol Coxhill and Evan Parker.
This orchestra has inspired me to start the Royal Improviser Orchestra (RIO) in Holland and it has been playing since 2006, with 20 musicians from all over the world and from completely individual angels of music with musicians from Baroque to Punk Noise but with the same passion for the improvisation.
Here in Holland, beside RIO he plays with Caetitu, Abaetetuba and EkE, Han Bennink, Michael Vatcher, Luc Ex, Marcos Baggiani, Ab Baars, Cor Fuhler and other Zaal 100 our free improv place in Amsterdam) friends.
www.yedogibson.com
Sandra Pujols (Spain/Germany) is a contemporary singer, composer and dancer. She graduated in composition at the Royal Conservatory of The Hague under the teachings of Martijn Padding and is currently studying her master at the Conservatory of Rotterdam (Codarts) with René Uijlenhoet.
Sandra studied classical singing technique as well as EVTS, and she's currently singing with: Asko Chamber Choir, Lux Ensemble,YokoAnaand RIO (Royal Improvisers Orchestra). She's always combined her musical studies with classical and contemporary dance training, skill that she uses in some of her projects.
www.sandrapujols.com
Manuela Lucia Tessi (Italy) freelance dance and maker living in Amsterdam since 1999.
She works a.o. with Magpie, Makiko Ito (Wonderland collective), Thomas Myrmel and Anat Spiegel, Sylvain Meret, Laura Moro and T(h)emigra Ensemble in Italy, Pauline de Groot, Leyya Tawil (Dance Elixir, USA), Miri Lee, Kateřina Dietzova and Crew Collective, 6 Songs company of Monique Cornwell.
The relationship between movement and music, often performed live, is central in her work. Manuela also researches into the tradition of Southern Italian folk dance, studying and working with Isabella Ruggiero and her group SudalNord. Since 2009 she is part of the collective that curates dance performances at cultural centre OT301 in Amsterdam. Her works have been presented in the Netherlands, Italy, USA, Spain and Czech Republic.
manuelalucia.wordpress.com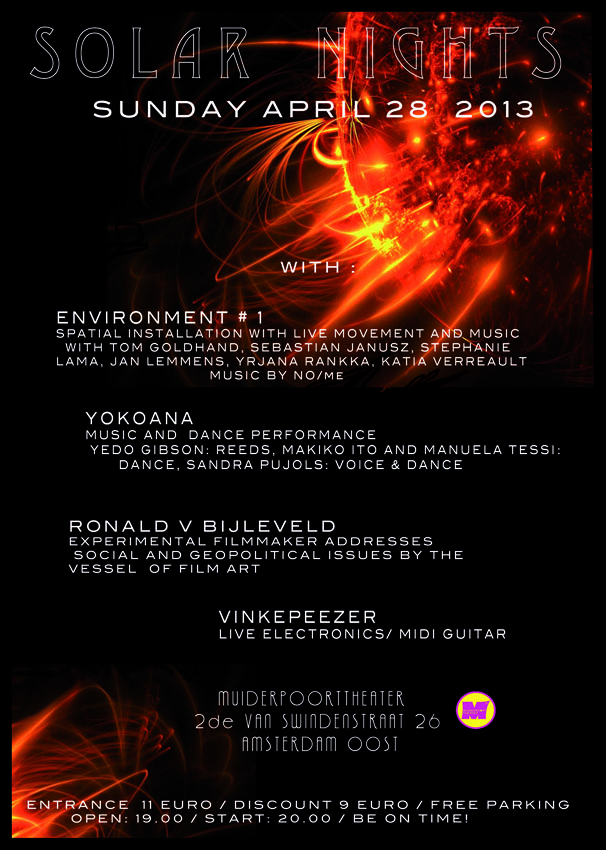 See Review amsterdamlifestyles
Solar Nights @ 26